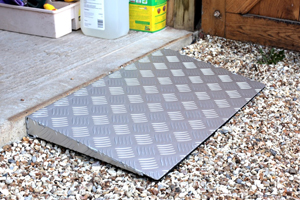 The Your needs new fixed threshold ramps are designed to be left in place, perfect if you need a more permanent solution. Our threshold ramps have an extremely durable anti-slip surface, which is ideal for continued outdoor use. These ramps are available in either a fixed or adjustable style, making them incredibly versatile. Our range of fixed threshold ramps is available to purchase VAT exempt and are extremely quick and easy to fit.
The Your needs Fixed Aluminium Threshold Ramps are the ideal solution for overcoming PVC, WPVC, patio doors and many other thresholds. Designed to be left in place, these products provide a comfortable and secure route to the inside of a property. They are lightweight and the anodised aluminium surface offers an excellent stainless, corrosion free grip surface, designed for sustained outdoor use.
These ramps are fastened securely onto the threshold and can be secured at the base as well.  The Ramp People Adjustable Threshold Ramps are completely self supporting, resting on adjustable legs, and can be postioned at varying heights. Both styles offer a cut away kerb, so as not to obstruct opening doors, and a full width anti-slip surface designed to be left outdoors over long periods.
Fixed Aluminium Threshold Ramp Features Include:

Easy and quick to install
Highly durable anti-slip surface
Top and bottom fixing options to allow secure installation
Ideal for PVC, WPVC and wooden thresholds and steps
Total width anti-slip surface for continued outdoor use.
Safety edges in contrasting colour
Lightweight design
Capacity up to 275kg
Anodised surface to prevent stains and corrosion
Durable easy wash surface
Large stock held
Free of charge next day UK mainland delivery

Adjustable Ramp Features Also Include:

Easily positioned telescopic legs
Heights adjusting from 7cm – 26.5cm (3″ – 10″)
Leave in place for PVC door thresholds